Pengembangan Kedai Rumah Madinah Dalam Menentukan Strategi Bersaing
Charles Yosep

Jurusan Manajemen, Universitas Widyagama Malang

Rahayu Puji Suci

Dharmayanti Pri Handini
Keywords:
Strategy, EFAS, IFAS, I-E, QSPM
Abstract
Madinah Malang in the future using the IFAS Matrix, EFAS Matrix, SWOT Matrix, I-E Matrix, SWOT Matrix and QSPM Matrix. Quantitative method. Research settings at the Madinah Malang Restaurant. The results showed that the ability of Malang Medina Restaurant Shops with IFAS and EFAS were able to exploit their weaknesses. At the decision making stage with QSPM, the alternative strategy chosen was the Market Development Strategy at the Madinah Malang Restaurant Shop. This strategy has a TAS score of 6,595. Limitations / Implications for research need to increase Promotion by utilizing existing technology through mass media such as: Instagram, Facebook, Google.
References
Amalia, Syarah dan Mahendra Fakhri. 2016. Pengaruh Motivasi Kerja terhadap Kinerja Karyawan pada PT. Gramedia Asri Media Cabang Emerald Bintaro. Jurnal Computech & Bisnis, Vol. 10, No 2, Hal: 119-127.
Berry L.M. and Houston, J.P. 2013. Psychology at Work: An Introduction to. Industrial and Organizational Psychology. New York; McGraw-Hill.
Brahmansari dan Paniel Siregar. 2009. Pengaruh Budaya Organisasi, Kepemimpinan Situasional dan Pola Komunikasi terhadap Disiplin Kerja dan Kinerja Karyawan pada PT Central Proteina prima Tbk. Jurnal Aplikasi Manajemen. 7 (1), Februari 2009.
Budi, Setiyawan dan Waridin. 2006. Pengaruh Disiplin Kerja Karyawan dan Budaya Organisasi Terhadap Kinerja di Divisi Radiologi RSUP Dokter Kariadi, Semarang. Jurnal Riset Bisnis Indonesia (JRBI). Vol 2. No 2. Hal: 181-198.
Hakim, Abdul. 2006. Analisis Pengaruh Motivasi, Komitmen Organisasi dan Iklim Organisasi Terhadap Kinerja Pegawai Pada Dinas Perhubungan dan Telekomunikasi Provinsi Jawa Tengah. Jurnal Riset Bisnis Indonesia (JRBI). Vol 2. No 2. Hal: 165-180.
Hasibuan, Malayu S.P. 2007. Manajemen Sumber Daya Manusia Perusahaan. Bandung: Bumi Aksa.
Hofstede, Geert, Gert Jan Hofstede, dan Michael Minkov. 2010. Cultures and Organizations. 3rd edition. New York: Mc GrawHill.
Kreitner, Robert dan Angelo Kinicki. 2005. Perilaku Organisasi (Orgaizational Behavior). Jakarta: Salemba Empat.
Mangkunegara, A.A. Anwar Prabu. 2011. Manajemen Sumber Daya Manusia Perusahaan. Bandung: Remaja Rosda Karya.
Marina, Lina. 2011. Pengaruh Karakteristik Pekerjaan terhadap Motivasi Kerja Salesman PT. Bentoel Prima Wilayah Pemasaran Surabaya. Skripsi. Fakultas Psychology, Universitas Airlangga.
Mathis, R.L. & J.H. Jackson. 2006. Human Resource Management: Manajemen Sumber Daya Manusia. Terjemahan Dian Angelia. Jakarta: Salemba Empat.
Moses, Rendi Mahardika. 2014. Pengaruh Karakteristik Individu dan Karakteristik Pekerjaan terhadap Prestasi Kerja Karyawan (Penelitian pada Karyawan PT Inti Bara Mandiri Tuban). Jurnal Administrasi Bisnis. Vol. 12 No. 1, Hal: 1-5.
Munandar, Ashar Sunyoto. 2008. Psikologi Industri dan Organisasi. Jakarta: UI-Press.
Panudju, Agung. 2003. Pengaruh Kompensasi dan Karakteristik Pekerjaan terhadap Kepuasan Kerja Karyawan Unit Produksi PT. X Palembang. Jurnal Manajemen & Bisnis Sriwijaya. Vol. 1(2), Hal: 4-17.
Robbins, Stephen P. 2009. Perilaku Organisasi: Organizational Behavior. Buku 1, Edisi 12. Jakarta: Salemba Empat.
Robbins, Stephen P. dan Coulter, Mary. 2012. Management. New Jersey: Pearson Education, Inc.
Sedarmayanti. 2013. Manajemen Sumber Daya Manusia. Bandung: Refika Aditama.
Sugiyono. 2015. Metode Penelitian Pendidikan; Pendekatan Kuantitatif, Kualitatif dan R&D. Bandung: Alfabeta.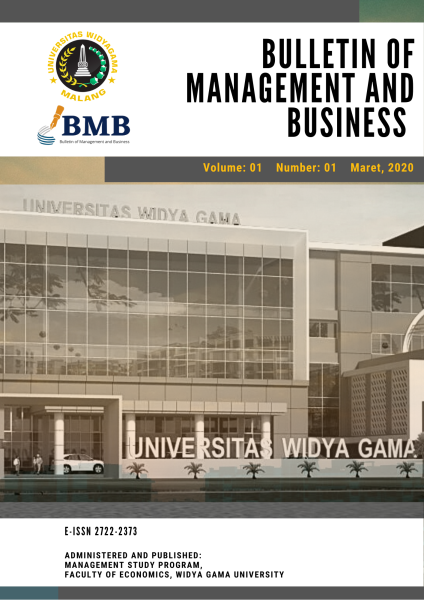 How to Cite
Yosep, C., Suci, R. P., & Handini, D. P. (2020). Pengembangan Kedai Rumah Madinah Dalam Menentukan Strategi Bersaing. Bulletin of Management and Business, 1(1), 1-9. https://doi.org/10.31328/bmb.v1i1.20