Peran PT. Pertamina Patra Niaga Integrated Terminal Surabaya Sebagai Upaya Masyarakat Penyelamatan Sumber Daya Air Bagi Masyarakat Dalam Program CSR Geblak Jambangan
Beti Nur Hayati

UIN Sunan Kalijaga

Nuril Khatulistiyawati

PT Pertamina Patra Niaga Integrated Terminal Surabaya

Ita Puspitasari

PT Pertamina Patra Niaga Integrated Terminal Surabaya

Buyung Satria Permana

PT Pertamina Patra Niaga Integrated Terminal Surabaya
Keywords:
Role, CSR, Saving Water Resources
Abstract
The condition of decreasing water quality also occurs in the Brantas River. This pollution is mostly caused by domestic waste caused by the lack of public awareness in disposing of waste in its place. Based on these problems PT. Pertamina (Persero) Integrated Terminal Surabaya, as one of the corporate entities that stands around the location provides a program that aims to deal with this problem through the Jambangan Right Behind Movement (Geblak) program. The research method used in this paper is descriptive qualitative. The result of this research is PT. Pertamina (Persero) Integrated Terminal Surabaya has a role as a facilitator and catalyst. There are several stages that have been passed since the beginning of the program, namely assessment, engagement, action and facilitation. The impact can be seen in changes in environmental conditions that used to be slums to become organized, as well as reducing waste that is converted into goods of economic value.
References
Kamus Besar Bahasa Indonesia (Jakarta: Balai Pustaka, 2007) Hlm.845.
Lina Anatan, "Corporate Social Responsibility (CSR): Tinjauan Teoritis Dan Praktik Di Indonesia", Jurnal Manajemen Manaratha, Vol 8, No 2, 2009, hlm 1
Nurkholidah, "Implementasi Tanggung Jawab Sosial Perusahaan (Corporate Social Responsibility) Pada Masyarakat (Studi Kasus CSR PT. Matahari Kahuripan Indonesia di Kecamatan Cermin Nan Gedang Kabupaten Sorolangun, Provinsi Jambi), Skripsi UIN Suka, Tahun 2017, hlm 13
Rahmawati, S, Irawan, M.I & Karnaningroem, N. (2014). Pola Sebaran Polutan di Kali Surabaya Menggunakan Jaringan Kohonen. Prosiding Seminar Teknologi Lingkungan 2014, ITS Surabaya
Sarlito Wirawan Sarwono, Teori- Teori Psikologi Sosial, (Jakarta: Rajawali Pers, 2015), Hlm.215
Siti Adiprigandari, Adiwoso Suprapto, "Pola Tanggung Jawab Sosial Perusahaan Lokal Di Jakarta", Jurnal Filantropi dan Masyarakat Madani 1 no 2 (2006), hal 42; Adam Latif, dkk, "Partisipasi Masyarakat Dalam Pembangunan Infrastruktur Di Desa Timoreng Panua Kecamatan Panca Rinjang Kabupaten Sidenreng Rappang", Jurnal Moderat vol 5, no 1, (2019), hal 6.
Sutarto "Good Corporate Governance (GCG): Corporate Social Responsibility (CSR) dan Pemberdayaan UMKM", http://www.diskopjatim.go.id/, diakses 1 Desember 2014
Syamsir, Torang, Organisasi & Manajemen (Perilaku, Struktur, Budaya & Perubahan Organisasi), (Bandung: Alfabeta, 2014), hlm, 86.
Yudo S, Said I.N. (2019). Kondisi Kualitas Air Sungai Surabaya Studi Kasus: Peningkatan Kualitas Air Baku PDAM Surabaya. Jurnal Teknologi Lingkungan Vol. 20, No 1, Januari 2019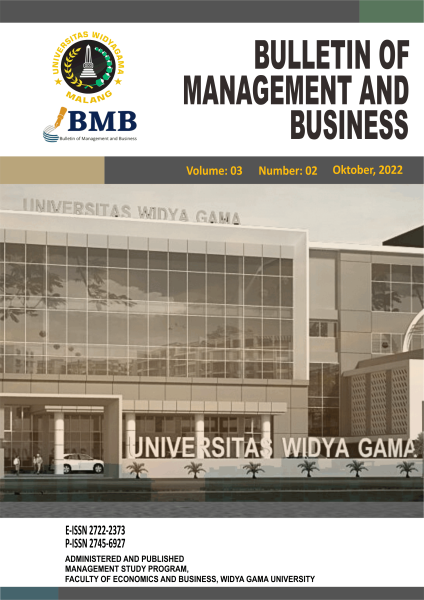 How to Cite
Beti Nur Hayati, Nuril Khatulistiyawati, Ita Puspitasari, & Buyung Satria Permana. (2022). Peran PT. Pertamina Patra Niaga Integrated Terminal Surabaya Sebagai Upaya Masyarakat Penyelamatan Sumber Daya Air Bagi Masyarakat Dalam Program CSR Geblak Jambangan. Bulletin of Management and Business, 3(2), 334-340. https://doi.org/10.31328/bmb.v3i2.233
Copyright (c) 2022 Bulletin of Management and Business
This work is licensed under a Creative Commons Attribution-ShareAlike 4.0 International License.