Pemasaran Pariwisata Berbasis Edukasi Kota Malang
Rini Safitri

Fakultas Ekonomi, UIN Maulana Malik Ibrahim, Malang
Keywords:
Tourism Marketing, Base Oriented Social Marketing
Abstract
This study describes the historical phenomenon of Malang Brawijaya Museum.
This study uses a qualitative literature method. The research setting is in Malang
Brawijaya Museum. Data collection was obtained from written and electronic
documentation and written sources.
The result show what is meant by educational which is important for the
community of young generation or millennial generation so that they can have victory
values for the nation.
Limitation / Implications for research are the need to develop promotion on social
media so that it is widely known by the public, both nationally and internationally.
References
Bintaldam V Brawijaya, 2008. Sekilas Mengenal Museum Brawijaya. Buku Panduan Wisata Museum Brawijaya.
Hamzah, Amir, 2019. Metode Penelitian Kepustakaan: Kajian Filosofi, Teoritis, dan
Aplikatif. Literasi Nusantara.
Hasan, Ali, 2015. Tourism Marketing. Cetakan Pertama. Yogyakarta: CAPS.
Thamrin, Kevin Akbar, 2013. Sejarah Lokal: Sejarah Kota Malang. Makalah.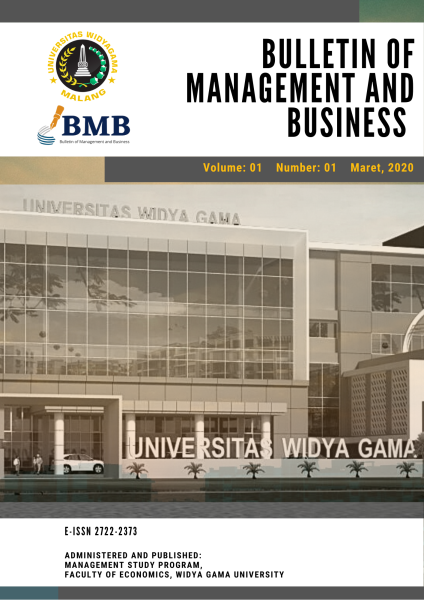 How to Cite
Safitri, R. (2020). Pemasaran Pariwisata Berbasis Edukasi Kota Malang. Bulletin of Management and Business, 1(1), 23-26. https://doi.org/10.31328/bmb.v1i1.30